St. John's Church West End Build Community Project
The outer shell is now complete!

Thank you to all out supporters. (click to see message)
To see pictures of laying the foundation stone click here.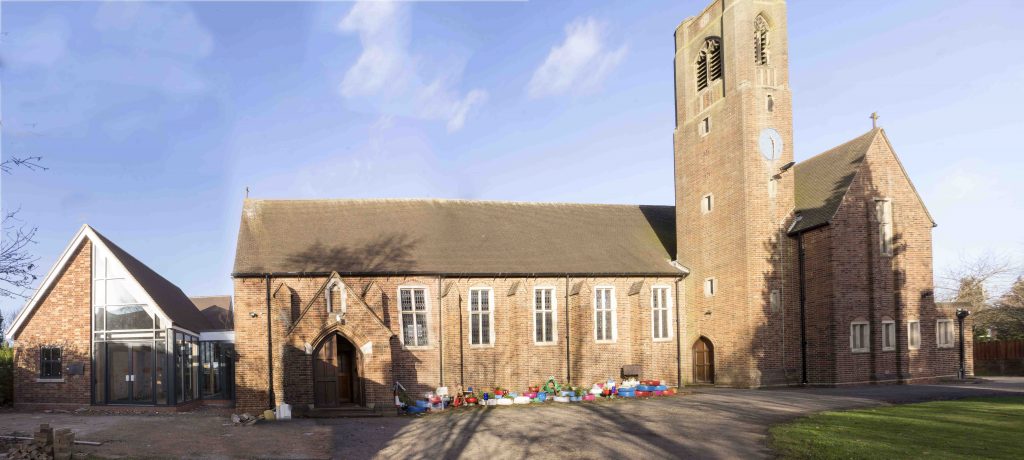 The most recent grants we have been awarded are £1000 from The Grimmitt Trust and £7,500 from The Foyle Foundation for which we are extremely grateful. We are currently seeking further grants and donations to enable us to complete the interior of the build as quickly as possible.
Using the grant monies, our own fundraising of over £34,000 and the amazing gift of labour and materials from our benefactor builders, Alan Degg and Sean Harriman, has enabled Phase 1 of the building work – the waterproof shell of the building finally to be completed.
Discussions are underway to place the whole of the completion of Phase 2, that is everything needed to make the building fully usable, in the hands of one contractor. This will provide a fixed timescale and a known end date. We expect that it will be a short time now to starting the work on Phase 2.
We are most grateful for all the many donations  we have received, all of which, along with all gifts and donations, will be entered in our Book of Gifts.
We are still working hard to raise the money we need to complete the interior of the building. Progress is recorded on the display near the entrance to the church. Its looking encouraging. Think what you can do to help and sign up.