We are very grateful to the Community Payback Tean run by John Stanley who work so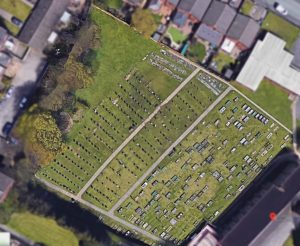 hard to keep our churchyard looking so good. They show real care and attention to what is often a difficult and tedious job.
Please click here to read the Diocesan Chancellor's rules on the running of a churchyard.
Please bear in mind that the Diocese of Lichfield own the churchyard. It is the St Johns Parochial Church Council (PCC) that has the duty to maintain the churchyard according to these rules. Over the years the PCC has applied these rules to make our churchyard into a place where all can enjoy a visit to the resting place of their loved ones.
We aim to create a serene environment where all can experience peace while they share their emotions and treasured memories.
Please do visit and enjoy the churchyard, perhaps pop into the church as well. The church is open between 10 and 4, Monday to Friday and 10 to 12 on Saturday. If you have travelled someway to visit do make yourself a hot drink while you rest.